Powerful. Disruptive. Engaging.

Steven is a long-time (see: baby boomer) technology entrepreneur. His cache of talent has led him through a virtual gauntlet of Internet and technology-based challenges.

Steven started his career in Mechanical Engineering but quickly changed gears to software, acting as one of the early pioneers in bridging the gap between telecom systems and computer intelligence. His software became the largest product of its kind globally in an exclusive license with Nortel.

Next, newspapers and what would become online dating. When cell phones were still being talked about more than talked on, Steven was already helping to shape the global wireless blueprint. He championed a technology that acted as a catalyst for the $12.7 billion acquisition of McCaw Cellular by AT&T, then helped release what is now text messaging to the world. So now very time you receive or send a text message, Steven was part of that early day transition.

Parallel with that, he cofounded a company that developed the world's first "Video on Demand" technology in a partnership with a New Zealand cable corporation. The company and its IP were later acquired for more than $400 million.

Following the acquisition, Steven found the Internet (not for the first time, just in a more profound way). Taking a keen interest in all things web, Steven specialized in messaging technologies and a messaging patent, Internet marketing, and SEO tools with his core technology company Webstager Digital Media. Through Webstager, he consistently delivered overwhelming results for his automotive dealership clients in the U.S. and Canada.

Steven has a passion for exotic animal causes like the global awareness of Macaw parrots and their disappearing habitat in the Amazon and Central America. He also supports a few local and U.S.-based bird rescue shelters.

You won't see Steven far away from his faithful companion Archie and his collection of classic Jaguars. If not at Granville Island for a daily shop or a corporate event, Archie is sure to bring joy to everyone he meets. Archie or #archietheparrot on social media is a rescue who's had many homes and has found his forever home with Steven and his life partner, Mimi Klingsat.
Event Content Marketing Automation Platform
Events are celebrations of massive consumer and corporate following. They're also an opportunity to measure sponsor value. Webstager leverages a centralized platform to unite the marketing and social efforts behind promoting and running events. Our software harnesses the power of community to dramatically increase event visibility.

For a full view at our experience in event marketing, have a look at our video series here.

Ted Stout on Event Marketing

The late Ted Stout* speaks about events as celebrations and how our event marketing automation platform "integrates a lot of moving parts that traditionally have not been integrated."

Combined, event marketing makes a huge difference for sustained community awareness, sponsor value, and taking your brand to the next level.

*Ted may be gone but not forgotten.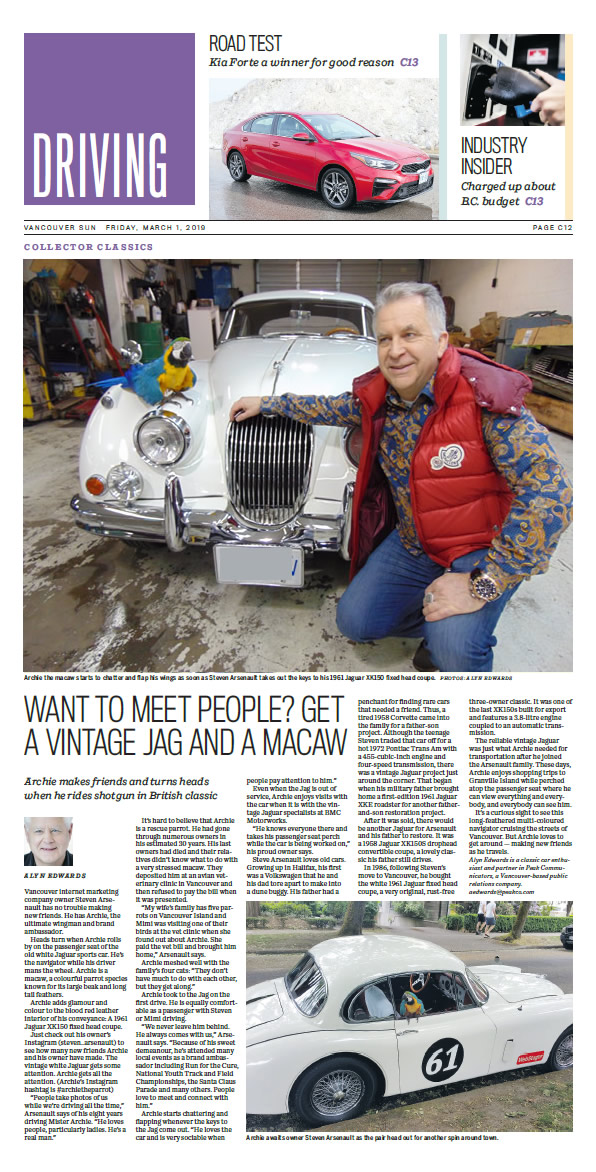 Want to Meet People? Get a Vintage Jag and a Macaw
From: Interview - Driving.ca - Alyn Edwards - Auto journalist / Partner in Vancouver-based public relations company - Peak Communicators